Among all IoT applications, it's the ones that are based in industry that are most challenging, and it is also the key factor behind industry evolution and progress, including Industry 4.0 and industrial internet.
Industry 4.0: During last 30 years industries and manufacturers have adopted technologies for the new industrial revolution. At end of 2017 and beginning of 2018, the 4th Industrial revolution took a huge step forward and accelerated massively.
The idea of the World Economic Forum 2018 was for the Shared Future and 4th industrial revolution. The 4th industrial revolution represents a massive change in the way we live, work and relate to our environment. Modern technological developments are commensurable to all the previous industrial revolutions, uniting biological, digital and the physical worlds, and creating a new level of industrial potential. Figure 1 shows all the aspects of the 4th industrial revolution, and the IoT plays a huge part in that.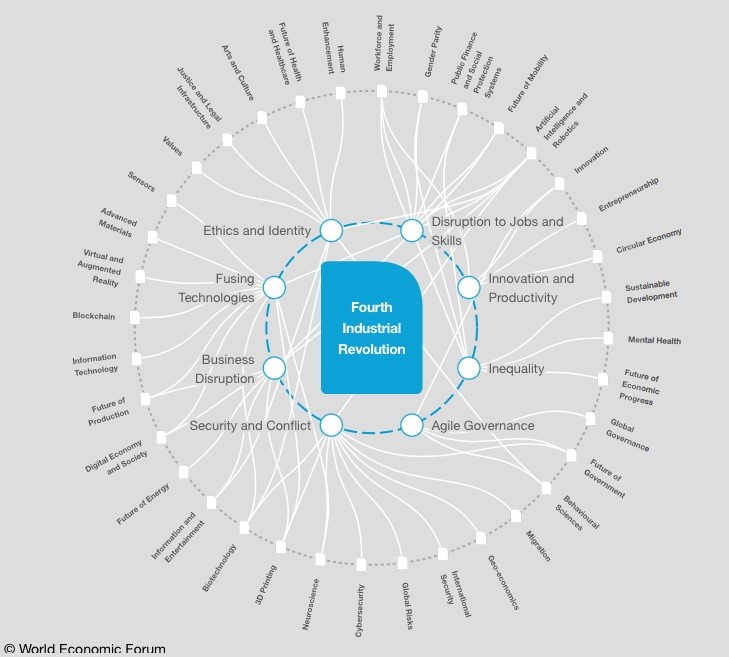 The industrial revolution manifests itself in the implemention of IP protocols, IT integration, Big Data, robotics and AI integration in manufacturing.
Another very important paradigm is the Industrial Internet of Things or IIoT. The IIoT is the IoT applied to fields like manufacturing, oil and gas, transportation and logistics and some others. Figure 2 shows an infographic created by the Industrial Internet Consortium. The 4th industrial revolution and IIoT will be gone into in more detail in further articles.

The complexity of modern manufacturing offers a broad field for IoT applications in different aspects of manufacturing – the connected factory, facilities and assets management, security and many others.
The first biggest field for IoT applications is manufacturing operations, which include asset management, intelligent manufacturing, monitoring, planning, cyber-physical systems and others.
Another field for IoT application is tracking and monitoring in terms of quality, performance, damages and so on. These applications can be related to optimisation. The third biggest application areas are product related services and business related services as many big modern manufactures become large  service organisations.  
Security and productivity are also important application areas for IoT. All these applications are closely related to Big Data, as manufacturers gather, store and analyse huge amounts of data in order to evolve and improve manufacturing processes. The data utilised by manufacturing is another hot topic for discussion.
Resuming the discussion above we can consider the list of the biggest applications for IoT in manufacturing:
Digital factory

Services

Predictive maintenance

Facility management

Asset management

Customer preference and behavior

Quality control

Safety and operations

Logistics

Packaging

Production flow monitoring
For instance, Digi-Key Electronics offers wide range of products that can be used in IoT.
(The 4th Industrial revolution", World Economic Forum 2018; "What is the Industrial Internet", The Industrial Internet Consortium; "The Internet of Things is Manufacturing: benefits, use cases and trends", i-scoop.eu).