UI means user interface, while UX stands for user experience. From the onset of digital branding and marketing, UI and UX have been used interchangeably, and designers who want to be involved in enhancing digital marketing are affected as well. In digital marketing, to achieve successful marketing of a product UI and UX are implemented in stages.
In this article, Yasir Alvi clarifies the miss-conception; and how UI and UX design contribute to ensuring a swift and aesthetic human-computer interaction.
How are UX and UI Similar: contribution to enhancing human-computer interaction
Before proceeding with the difference between UI and UX, let's look at the similarity that exists between the two ways of designing a digital store/market. During the designing process, one is centred on creating opportunities for interaction through visual and auditory experience while the other focuses on the overall experience.
However, a user interface designer discovers an aesthetic insight during his user research activity; the User experience designer might later employ it in enhancing the experience the user will feel while interacting with the product or service.
Let's consider Alibaba.com; the user interface design focuses on the layout of the website, the clarity of information on the product pages, and navigation buttons. Also, the user experience designer on the other hand addresses questions that are subject to a user's experience while using the website.
These questions may include: was the customer able to find the product/service it was looking for? Did that product arrive on time? Therefore, UI deals with how the user interacts with the site's visual and technical components while UX deals with the overall experience by the user.
So far, we see that UI and UX are interrelated, and as such are similar. This is one of the reasons why many persons even employers mostly post UI and UX skill sets in one role or as a single profession.
We are here now, let's explore the differences between UI and UX.
During the process of creating a great product experience, UX and UI interact with their unique attributes. These attributes they offer are what makes them distinct from each other.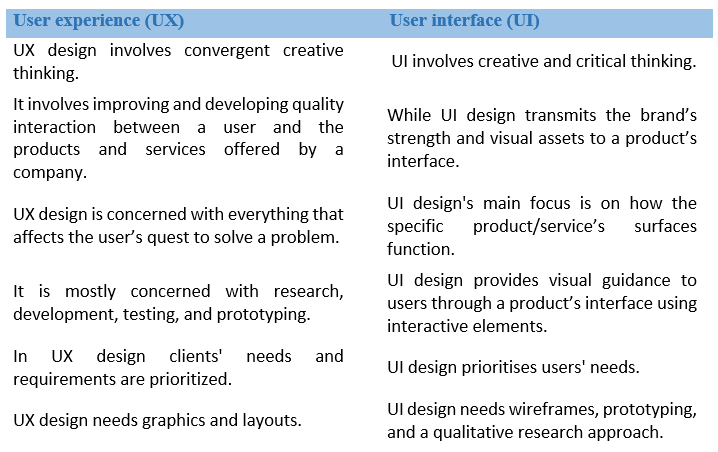 Summary
In general, a UX designer employs user research, strategy, and content development as a tool to establish a great end-to-end customer experience. On other hand, UI designers use branding, marketing, and responsive design to translate the look and feel of a digital product across digital devices and websites.
For those of us that are interested in pursuing a career in UI/UX design but are not sure whether to focus on UX design or UI design. you will need to spend some time thinking about where your interests lie, and what you are naturally good at doing. UX and UI design as shown in this article are highly collaborative with varied career paths, placing you right at the cutting edge of technology and innovation.