Student Circuit caught up with Nathan Jones, a 1st Line Engineer at Orange Cyberdefense. He gave us an insight into the industry, and what his career has looked like to date.
Tell me about your job role and industry
Currently I am working in the cybersecurity industry as a 1st Line Engineer at Orange Cyberdefense. I have various roles as a 1st Line Engineer, it can vary from day to day. One day I can be handling the initial processing of high priority incidents and perform troubleshooting if required. Another day I may be logging onto our monitoring platform and reporting any potential outages on our clients' devices.
How did you find yourself in your current position?
Before entering the cybersecurity industry, I had worked for two years in the IT support / infrastructure industry, gaining knowledge whilst working. Just over a year of that experience was spent completing my Level 3 Infrastructure Technician Apprenticeship.
Prior to this I had completed a Level 3 BTEC in Computing at my sixth form which enabled me to get a job offer at my apprenticeship. Along the way I have had lots of help from people I know that work in the industry to guide me in the correct direction.
What was your education like?
My sixth form did not offer a computing course, but I managed to persuade the head of the ICT department to enrol me on the BTEC course. We worked this around both of our timetables and after-school when necessary. Upon finishing sixth form I moved immediately to my apprenticeship.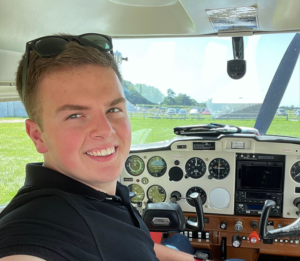 Why do you think you have been so successful without a related degree?
I think the reason I have been successful so far is because of my enthusiasm to work in the industry and more importantly setting myself goals as to where I want to be and when.
Rather than following the crowd I decided to find my own unique path into my dream job and industry. I have had lots of setbacks. Some minor and major, but my perseverance has been key to progressing as far as I have.
Is there a specific moment that sparked your interest?
I have been interested in computers and technology from a young age, as soon as I could get my hands on a computer I was hooked. It became my way of life, rather than just my hobby. If I'm not at work fixing networking issues, I'm at home developing my skills and learning new things about technology. I can easily spend hours with technology.
What are your future career goals/plans?
The biggest goal I have set myself is to become a highly skilled network engineer, or network administrator. One of my nearer short-term goals will be to apply for a role as a 2nd Line Engineer in Orange Cyberdefense once I have gained experience in their 1st Line Department. As soon as I feel ready, and a position opens. I'll do what I can to get the job!
Do you have any advice for anyone wanting to work within the industry?
The main advice I'd give to anyone young looking to work in the industry as a cyber engineer would be find the thing you are best at with technology. Learn the heck out of it and do what feels right.
Remember that everyone's career paths will be different. Throughout your journey get as much advice and speak to as many people as you can. Keep as many connections as you can and don't be afraid to take a leap.
You must believe in yourself and your skills!
If you would like a chance to share your story, contact editor@student-circuit.com!