Designed to remove barriers to gaming and help players with disabilities play more easily, more comfortably and for longer periods on PS5.
Accessibility is an important topic to PlayStation, and it wants to continue raising the bar to enable every gamer to experience the joy of play. Whether it's the robust accessibility options in PlayStation Studios games like Santa Monica Studio's God of War Ragnarök or Naughty Dog's The Last of Us Part I, or the wide array of features in its PS4 and PS5 console UI, Sony is passionate about reducing barriers to play for every gamer.
At CES, it announced the next step in its journey to make gaming more accessible: Project Leonardo for PlayStation 5.
Developed with key contributions from accessibility experts, community members, and game developers, Project Leonardo is a codename for a new highly customisable controller kit that works "out of the box" to help many players with disabilities play games more easily, more comfortably, and for longer periods.
Through conversations with accessibility experts and incredible organizations like AbleGamers, SpecialEffect and Stack Up, Sony has designed a highly configurable controller that works in tandem with many third-party accessibility accessories and integrates with the PS5 console to open up new ways of gaming.
It is built to address common challenges faced by many players with limited motor control, including difficulty holding a controller for long periods, accurately pressing small clusters of buttons or triggers, or positioning thumbs and fingers optimally on a standard controller.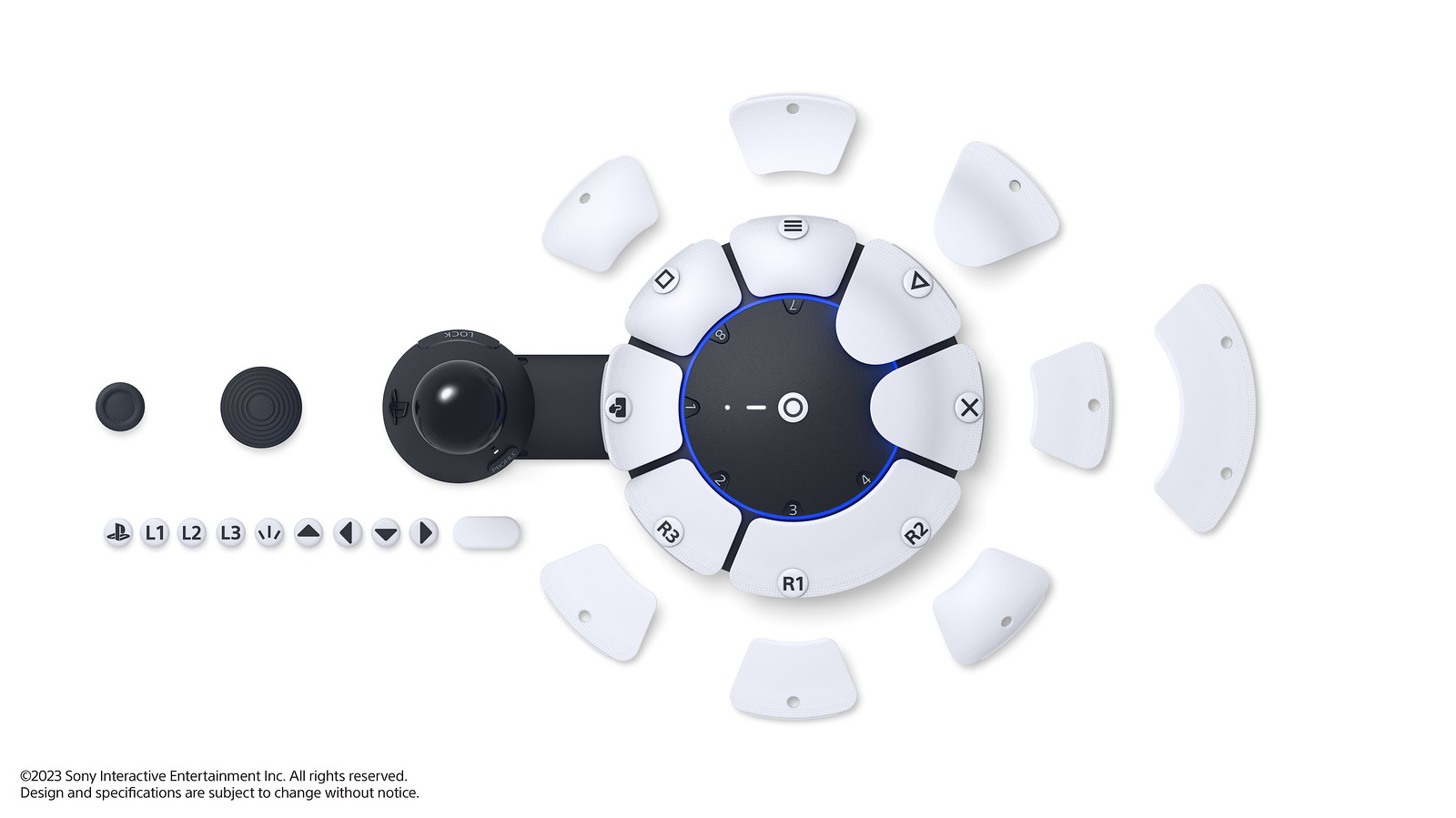 Key features:
Customisable play experience
Hardware customisations. Project Leonardo for PS5 is a canvas for gamers to craft their own play experience. It includes a robust kit of swappable components, including a variety of analogue stick caps and buttons in different shapes and sizes.
Players can use these components to craft a wide array of control layouts. And the distance of the analogue stick from the game pad can be adjusted to suit the player's preference. These components allow players to find a configuration that works for their strength, range of motion, and particular physical needs.
Software customisations. On the PS5 console players have an array of options to tailor their Project Leonardo play experience:
Button mapping

The controller's buttons can be programmed to any supported function and multiple buttons can be mapped to the same function. Conversely, players can map two functions (like "R2" + "L2") onto the same button.
Control profiles

Players can store their programmed button settings as control profiles and easily switch between them by pressing the profile button.
Up to three control profiles can be stored and accessed by the player from their PS5 console at any time.
Works collaboratively with other devices and accessibility accessories
Project Leonardo can be used as a standalone controller or paired with additional Project Leonardo or DualSense wireless controllers. Up to two Project Leonardo controllers and one DualSense wireless controller can be used together as a single virtual controller, allowing players to mix and match devices to fit their particular gameplay needs, or to play collaboratively with others.
For example, players can augment their DualSense controller with a Project Leonardo controller or use two Project Leonardo controllers on their own. A friend or family member can also assist by helping to control the player's game character with a DualSense controller or a second Project Leonardo controller. The controllers can be dynamically turned on or off and used in any combination.
Project Leonardo is expandable through four 3.5mm AUX ports to support a variety of external switches and third-party accessibility accessories. This enables users to integrate specialty switches, buttons or analogue sticks with the Project Leonardo controller. The external accessories can be dynamically connected or disconnected, and each can be configured to act like any other button.
Flexible, adaptable design
Project Leonardo's split, symmetric design allows players to reposition the analogue sticks as close together or as far apart as they like. The controller lies flat and does not need to be held, so players can lay it on a tabletop or a wheelchair tray. It can be easily secured to AMPS mounts or tripods, and can be oriented 360 degrees for the most comfortable use. Players can also program the "north" orientation on the analogue sticks to match their preferred controller orientation.
Sony Interactive Entertainment designer So Morimoto shares some insights on how his team approached the industrial design of Project Leonardo: "Project Leonardo is part of the PS5 product family and is based on the same design concept. We were inspired by the idea of all players enjoying the world of PlayStation together. Our team tested over a dozen designs with accessibility experts, looking for approaches that would help address key challenges to effective controller use.
"We finally settled on a 'split controller' design that allows near free-form left/right thumbstick repositionability, can be used without needing to be held, and features very flexible button and stick cap swapping.
"Because players can customise Project Leonardo according to their needs, there is no one 'right' form factor. We want to empower them to create their own configurations. The controller can also flexibly accept combinations of accessibility accessories to create a unique aesthetic. I am excited that the design will be completed through collaboration with players rather than presenting them with a single form factor."
Looking ahead
Project Leonardo is currently in development and Sony continue to gather valuable feedback from the community.