On Thursday 21st July Student Circuit had the pleasure of attending Startups Magazine's annual Hustle Awards at The Steel Yard, London. The Hustle Awards is the networking event of the year, bringing the entire tech startup community under one roof to celebrate the very best of the industry.
The mission of the awards is to recognise the achievements and innovation of individuals and companies, raise the standards across the sector, with a focus on diversity, inclusion and sustainability, and inspire and celebrate the creative and entrepreneurial journey.
Kiera hopped on a train to the amazing venue and spent the evening networking with founders, innovators, industry experts and colleagues. The awards were hosted by the hilarious Laura Lexx, an award-winning comedian, writer and actor. Her Edinburgh Fringe shows won her Best Performer in the Comedian's Choice Awards.
"Having been in the pipeline for so long, the event was everything we imagined and more," said Anna Flockett, Editor of Startups Magazine.
"It was such a pleasure to host everyone and see so much incredible talent. Well done to all the shortlists and winners."
"Also, a massive thanks to our judges, you were all amazing and had such a hard job," she continued.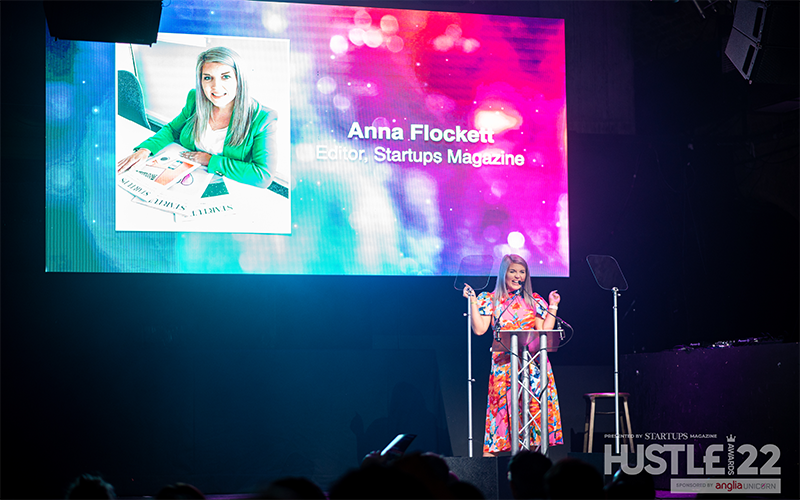 John Bowman, CTO, Anglia Unicorn said: "We congratulate and applaud all these companies and individuals for driving real innovation in their chosen fields, we are honoured to be standard bearer for this vibrant community."
The evening was filled with so much enthusiasm, innovation, and enough inspiration to keep you going for life.
With categories ranging from Most Innovative Tech and Most Successful Scale-up, to Inspirational Womxn of the Industry and Founder of the Year, there were lots of shortlisted entries.
The incredible winners:
Most Innovative Tech – aisle 3
Early-stage Innovation – ZipCharge
Founder of the Year – Tamas Kadar and Bence Jendruszak Seon
Green Award – measurable.energy
Mentor of the Moment – Kaitlin Fritz
Most Successful Scale-up – Doctify
Inspirational Womxn of the Industry – Dr Pauldy Otermans
Outstanding Supporter of the Year – Raising Partners
Social Impact Hero – Care Matched
Top Performing Team – Altnets
Workspace of the Year – Allia Future Business Centre
Most Innovative Tech – aisle 3
aisle 3 has built a top-down marketplace that shows shoppers all of their buying options and saves everyone hours of scrolling through endless ads, opening a myriad of tabs and checking a bunch of sites just to find a pair of sneakers in a size that fits.
Early Stage Innovation –  ZipCharge
The ZipCharge Go is a game-changing solution to solve the biggest barrier to adoption of electric vehicles, charging anxiety. Over 40% of car owning households can't cope at home as they don't have off-street parking.
Founder of the Year – Tamas Kadar and Bence Jendruszak – Seon
Seon is using AI to redefine what it means to fight online fraud in today's world. The business has emerged as one of Europe's leading fraud tech startups.
Green Award – measurable.energy
measurable.energy is on a mission to eliminate wasted energy from buildings. Winning this award cements its commitment to making the built environment more sustainable by changing the way we view and interact with energy.
Mentor of the Moment – Kaitlin Fritz
Kaitlin Fritz is an award-winning entrepreneur, enterprise educator and business mentor who has supported 400+ entrepreneurs and student founders since 2020. As a Forbes 30 Under 30 alum, she combines her lived experience as an edtech founder with proven mentoring frameworks to propel UK and international teams' potential sales.
Most Successful Scale-up – Doctify
Doctify shows the power of patient feedback in driving the right improvements and innovation in the healthcare industry. By giving providers the right tools to capture patient voice, Doctify has successfully scaled up, helping more than 50 million patients make informed decisions about their healthcare.
Inspirational Womxn of the Industry – Dr Pauldy Otermans
Dr Pauldy Otermans is the Founder, Chair and Principal of Otermans Institute, a young international company that is upskilling a generation of underserved learners from remote UN camps to villages in remote and developing countries, and neurodiverse learners in the UK.
Outstanding Startups Supporter – Raising Partners
The startups that have worked with Raising Partners have been able to scale and grow as a direct result of the capital secured and advice received. Whether it be via direct investment strategy, support and campaign management, or the education provided for free on Runway, Raising Partners exist to empower the founder and leadership teams of startups in the UK.
Social Impact Hero – Care Matched
Care Matched is the first care planning app with an extensive focus on cultural matching. It provides personalised care for care workers and gives its clients the competitive edge.
Top Performing Team – Altnets
The Altnets team provides incomparable customer service to its clients. Its knowledge of the telecoms industry and strong relationships with its manufacturing partners means it can fully support customers through the whole procurement process.
Workspace of the Year – Allia Future Business Centre
Allia's Future Business Centre offers flexible workspace and a supportive innovation environment where startups can build their networks and businesses.
Student Circuit would like to congratulate all winners and shortlisted entries, and congratulate the Startups Magazine team, event sponsors and the Steel Yard on an incredible event.
Student Circuit is already excited to attend the Hustle Awards next year!