As the world becomes ever more reliant on the internet, it has never been more important to teach young people about cyber security.
Written by Dr Rashmi Mantri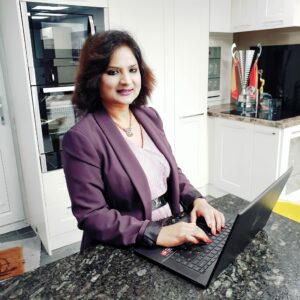 It is estimated there was an 89% increase in computer misuse offences in the year ending March 2022 compared with the year ending March 2020.
Responding to a growing demand for education on the topic, the organisation I lead, British Youth International College (BYITC), has launched a unique programme to raise awareness of Internet safety among school pupils.
We have invited selected schools across the UK to take part in our free inter-school cyber awareness competition. Our aim is to educate young people about online threats, collect invaluable original data to further the development of cyber security education, and promote the importance of cyber awareness among pupils, parents and schools.
The rapid digitalisation of work, study and communications has had an unprecedented impact across society. And this was never more apparent than during the Covid-19 pandemic, when hosting everything from school lessons to global conferences online became the norm.
For better or worse, the Internet has taken its place as an ever-present shadow in our daily lives – and brought with it the genuine threat of cybercrime. Over the past decade, and particularly during the pandemic, the number of cybercrimes has grown at an alarming rate.
Growing up in close contact with digital spaces from social media to online gaming, young people today are particularly vulnerable to risks like malware, phishing scams and hacking.
The question for all parents is: to what extent do our young people really understand the potential dangers on the Internet? Do they know, for example, how to use safe practices when browsing online?
As we see it, our duty as educators is to protect them from these hazards, which we believe can be effectively countered with training to give them the skills and knowledge they need to effectively tackle security issues at home, in school and at work.
Catering to pupils from P6 to S4 with only basic or even no knowledge of cyber security, BYITC's inter-school cyber awareness competition seeks to make each of them significantly more aware of the threats they might face.
Our students are given a cyber security masterclass covering issues such as cyber bullying, identity theft and online banking. They will then complete a multiple-choice assessment which will give us a greater understanding of those areas of cyber education that need to be given greatest focus.
The data culled from this exercise, the first, we believe of its kind in Scotland, conducted on a large scale with school pupils, will represent an essential record of data on cyber security education which should frame conversations on areas for further improvement and development.
BYITC already has a wealth of expertise in cyber security. Since its foundation in 2015, we have launched a variety of course and challenges spanning diverse subject areas, including programming and cyber awareness.
We now look forward to collaborating with schools across the country on this new programme, which is entirely aimed at training pupils to safeguard themselves from online threats in a fun and interactive way.