With it being National Apprenticeship Week, Student Circuit thought there was no better time than to catch up with Joe Crossley, CEO of Qube Learning.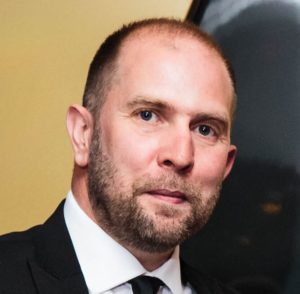 Can you tell me about your background?
Having passed up the opportunity to complete a degree in Occupational Health in 1997, I spent 12 months moving around the UK, learning about all aspects of retail, customer service, marketing, staff and sales management. I then joined Qube Learning in 2014 as Commercial Director, having spent seven years prior to that with a local family run Training Provider. With a drive to succeed, I was made Business Development Director in 2016, a role that focused on securing and working with larger Employers who would be Levy payers. During my time in this position, me and my team secured numerous national and multinational employer accounts for the business.
Could you tell me about what you do and the company as if I know nothing about it?
In 2017, I was promoted to Chief Executive Officer of Qube Learning and have since made a point of communicating regularly with my team to ensure they are all working from the same page. Not wanting to be seen as unapproachable, I believe a title does not have to mask the real human beneath it and I am very open in my professional approach.
Qube Learning are a national recruitment and training solutions provider. We deliver a range of training to individuals and teams via apprenticeships, traineeships, short courses, eLearning, as well as providing recruitment solutions for jobseekers and employers alike. We fund many of these projects through over £10m worth of direct contracts held with the government's education and skills funding agency and apprenticeship levy-paying employers in England.
What are the benefits of apprenticeships over other pathways of education?
This National Apprenticeship Week is a great opportunity to learn more about the FE Apprenticeship programme, what apprenticeships involve, and how they can really change people's lives, not only on a professional level, but in a personal sphere too. There are many reasons why this type of learning and development track should not be overlooked but be up on a pedestal as other accreditations are. An apprenticeship is a chance to show people what you are capable of, while instilling self-belief and increasing your skill set. The benefits are:
Your training will either be funded by your employer or through a co-investment between the government and your employer, which means you can avoid the large debts associated with going to university.
Earning a wage as you learn and develop new skills, while getting paid holidays, including bank holidays.
Receiving practical, on-the-job work experience that will put you ahead of the competition.
Gaining knowledge of how your chosen industry works to see whether it is really what you want to pursue as a career.
Gaining a nationally recognised qualification, which is highly attractive to your current and future employers.
Working alongside experienced staff and taking a fast route into a career with good prospects.
Learning at a pace suited to your individual needs, with the support of a mentor.
Rising through the ranks quicker. National statistics show that Employers recognise and value apprentices that are hard-working.
They are a 16+ programme for people that know what type of work they want to do, but need skills, knowledge, and experience in the workplace.
An apprenticeship can lead to pretty much any type of career and is a great way for someone to work their way up.
Apprenticeships start at Level 2 and go up to a Level 7. The stages in between are suitable for different levels of experience.
What are you doing to ensure students become more aware of apprenticeships?
We hold a number of events throughout the year, reaching out to individuals who are looking to gain or add to their skill set through an apprenticeship. We have a team who are very targeted about their approach with schools, and we work with organisations such as Youth Employment UK, The Prince's Trust, and the National Deaf Children's Society to ensure we are reaching broad audiences, and that people are not missed off because they don't have the right grades or experience.
We also have a TikTok platform and two Kick Start Centres that are designed to help those looking at apprenticeships (and traineeships) in Bradford and Bolton, two areas that are in need of a rise in employment rates. We want everyone to know they have a chance to learn, develop and succeed.
Do apprenticeships work for all industries?
I believe they do. The apprenticeship reforms, which started in 2017, placed employers at the heart of shaping what modern day apprenticeships looked and felt like. Since the introduction of apprenticeship standards, there have been 766 standards launched, supporting sectors such as retail and healthcare to more diverse and some would say more traditional apprenticeship industries such as boatbuilding and stained-glass craftsperson, focusing on the skills, knowledge and behaviours of what was required to develop an individual to work in their chosen role within a sector, ensuring that there is a continued pipeline of talent coming through.
Do you think apprenticeships could work for everyone?
Absolutely. There is a chance for anyone to succeed if they want to. To allow this to happen, we work closely with our employers to implement further education programmes that benefit the student and their business. Students are allocated tutors who are on hand throughout their whole course. Though it is a professional set up, we support when someone is having a difficult time in their personal life and help to adapt their workload to get them through. We are very hands on and believe that no one should be discriminated against.
What are some things you are doing throughout National Apprenticeship Week 2022?
We are hosting a number of exciting informative events throughout this week at our Kick Start Centre in Bradford, celebrating all things traineeships and apprenticeships. We have a lot of information going out across our social media on what apprenticeships are, along with informative interviews on the FE programme from individuals who work at Qube Learning. Read more.