As I am sure you are aware if you have been a university student throughout the COVID-19 pandemic, the way that just about everything is usually done has had to adapt to fit in with constantly changing government guidelines, restrictions, and safety measures.  
Arguably one of the most important events for new and returning students, freshers' fairs are the first event that most attend to learn more about their university, including what clubs, societies and experiences are on offer.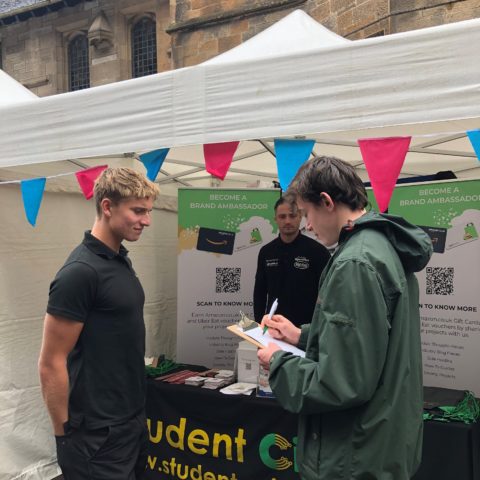 As well as this, the social side of freshers' fairs make them crucial for many students for meeting as many people as possible and interacting with hundreds of equally excited and anticipating new faces.  
Throughout COVID-19, universities turned to hosting such events virtually to ensure they could still go ahead, but were they beneficial to students at all? Did students miss out on the purpose of the event through having to attend through a screen? 
As students prepare to return to university and many begin their new chapter as a first-year student, it is reassuring to know that their time at university is looking much more 'normal' than for previous classes. 
As already stated, freshers' fairs usually kick off freshers' week and so they are the first event that most new students attend after moving into their new home for the foreseeable future. Therefore, it is vital to attend this event in person as it sets the tone for the rest of the week and the term.  
At freshers' fairs, new and returning students can walk around hundreds of stalls from different societies, sports teams, clubs, are presented with opportunities to travel abroad, and are informed of the upcoming events that will be held throughout the rest of the week.  
It is therefore vital for students to gather as much information as possible, whether it be about the university's engineering society, lacrosse team or free language courses, there is something on offer for everyone. 
Final year Product Design and Engineering student at Brunel University, Millie White, stated: "For me, freshers' fair was more a way to learn about all the societies and join ones I was interested in rather than meeting people, as I went with new friends I had met in my accommodation." 
University students attend freshers' fairs for a variety of different reasons. In Millie's case for example, her focus was on getting to grips with the vast number of opportunities available to her. 
Having freshers' fairs held online during COVID-19 meant that many students were not aware of the plethora of opportunities available due to a lack of interaction between themselves and the sports teams, societies, and clubs, and so the rest of their freshers' week and, even their whole term, was impacted.  
Millie said: "I definitely think students missed out on getting to see all the societies under one roof and getting to see what they are all about." 
Another huge difference between virtual freshers' fairs compared to in person events is the lack of social interaction that students can have with other students. It is not as easy to meet new people and make friends when you are all sat in individual rooms at home and are having to hide behind a screen.  
Third year Electrical and Electronic Engineering student at University College Cork, Ethan Hussey commented: "Freshers' fairs for me are a way to meet as many new people as I can from different years and courses. 
"I got to know other people's experience in the course and get any advice they had, and I am still friendly with most of the people I met during my freshers' fairs who are no longer in the college."  
Luckily for Ethan, his initial freshers' fair experience was before COVID-19 had hit and therefore he was able to have the true, full experience in his first year. Ethan's account of his first freshers' fair reinforces their importance, allowing students to form long-lasting friendships during the crucial initial weeks of university life.  
Ethan added: "I would recommend to everyone to attend, whether it be in person or online, to network and get a feel for your university. 
"So many people there are willing to have a chat and share their experience. And you never know, the people you meet might be your friends throughout your university life." 
Furthermore, through not being able to attend freshers' fairs in-person, students have not only missed out on the social and educational aspect, but the fun and silliness of running around to as many stalls as possible, participating in games to win random prizes and getting hold of a plethora of student discounts. Getting hold of as many freebies as possible, eating all the food on offer and signing up to clubs and societies I knew I would never attend, was what made my first freshers' fair an exciting, memorable experience. 
It is also important to remember the logistical aspects of holding an in-person freshers' fair, and to keep students safe and to limit the spread of COVID-19.  
Millie commented: "I appreciate there are so many freshers to go into one building so its almost inevitable that it will be crowded, but I think there's a way of doing it outside or spreading it across a wider area and possibly into different buildings." 
I think it is fair to say from hearing the point of view of a handful of current students that a virtual freshers' fair experience is by no means the same as a pre-COVID experience. Ethan Hussey commented: "It was a completely different experience and the students who had not previously experienced freshers' fair in person did miss out." 
Luckily, for most students within the UK, due to the relaxation of restrictions, freshers' fairs can go ahead in the same way as before throughout September and October. This is long awaited and great news for both new and current students, as hopefully the 2021-2022 academic year will bring with it a more normal experience of freshers' fairs, meaning students can make the most out of their experience.