Are you aware of how influential LinkedIn can be for students and graduates? You can make industry connections, keep up to date on industry news and essentially create a virtual profile for yourself that can constantly be updated, all from the comfort of the website and app.
Here, Kiera gives her top 5 tips on how to navigate around LinkedIn and build a profile to ensure it stands out and gets noticed.
1. Update your profile regularly
Ensure that if you get a new job or partake in new industry experience, you update the relevant section on your profile. This also includes adding the new skills and responsibilities you have gained through this work or education.
Also ensure that your 'about' section on your profile accurately depicts where you're at and where you're headed. Include information about where you are in terms of education in your career, what industries are relevant to you, and any personal achievements.
If you have finished school or university, showcase this on your profile. Ensure your profile is as up to date as it can be to avoid confusion and to act as your evolving, digital CV.
This shows prospective employers what you are capable of and shows that you are proactive in your approach to work.
2. React to people's post on your feed
Like, comment and share posts to your own feed, sharing your own thoughts and input on topics that are up for debate.
This includes congratulating your friends and colleagues for their achievements, debating a topical area, and keeping up to date with relevant industry news.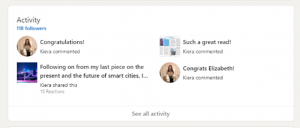 3. Share your own thoughts and experiences
Don't be afraid to craft your own posts and post them on LinkedIn. These could include speaking about degree related achievements, workplace achievements or more general career milestones, such as starting a new job.
You can share your own opinions, projects, and glimpses of your personal life. Below is an example of the sort of posts you can share!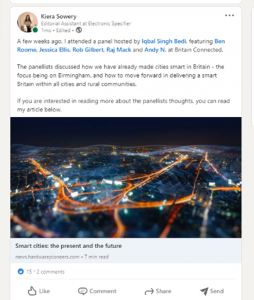 There is the common misconception that you cannot let your personality shine through on your LinkedIn profile, if you keep it professional, you'll be fine!
4. Connect with relevant people and interact with them
Find key companies or people within your specific industry and connect with them online. For example, if you're hoping for a career in electronics engineering, find key companies and employees and send them a request to connect. You can ask them any questions you might have and gain a real insight into their specific job role, and the wider industry.
This can include liking, commenting, and sharing posts and messaging people privately to introduce yourself and build new relationships.
5. Use the skills endorsement section on your profile
Encourage friends, family, and colleagues to endorse the skills that you have claimed that you possess. Of course, its all well and good to claim you have excellent communication or debugging skills, but to have someone endorse this with real life experiences in working with you makes you stand out even more.
As well as this, you can take mini tests on LinkedIn to see how competent you are at a certain skill, which also endorses yourself.
What are you waiting for?
If you don't already have a profile, what are you waiting for? Start by implementing even one of these tips, and see what happens to your profile.
If you decide to implement any of these tips into your LinkedIn profile or posts, be sure to tag Student Circuit!